When Gugak meets NFT
3PM's ONEUM project
We don't want a huge success. I just find a way to love what I love more. You're not frustrated, you're just thinking about how to love, and you're naturally thinking about your business if you don't want to be frustrated by what you love. In order to have ownership, we explore the profit model and business model with the operator. TMI.FM's L.O.N.E N Business is a text radio that introduces and supports these people. Today, I will introduce the Gugak NFT project.
---

ONEUM Project by 3PM
3PM is a music NFT startup that started its business in 2021. In the meantime, I have planned and published NFT music compilation and artists' projects. Personally, I met often in the early stages of the business to talk about new businesses and possibilities, and I have a relationship where I held sessions together at events such as the Content Agency. CEO Lim Ji-soon has participated in Weverse business at Hive.

3PM unveiled the Gugak NFT project. The title is "Oneum" project, and "Oneum" has a dictionary meaning of "In the Jangeum system, "Mi·pa" and "Si·Do," a long two-degree pitch. The interval between two half-tone notes (source: Naver Korean Dictionary)." The "All-Tone Project" means that music and visuals form one whole tone, taking the meaning of the word's intact note, and that the project allows creators to make their own all-tone sound.

The NFT of the Oneum project is a generative NFT issued based on Solana, and unlike the general PFP, the NFT owner of the project can use the sound samples and artwork of the Gugak instrument included in the NFT for his own creative activities. It's a kind of Korean traditional musical instrument sampler. A total of 1344 samples are issued, and creators can use a total of 1344 samples and subsequent additional samples even if they own one NFT.

And it also includes artwork. Eight types of gen0 instruments are depicted in the form of tigers, phoenixes, moon rabbits, foxes, deer, dragons, fairies, and cranes, respectively. Rhythm, scale, and samulnori are represented by the character's hairstyle, items, and background, and these image elements are collaborated by musician Delta.O.Yanni and NFT writer ShinyTiger.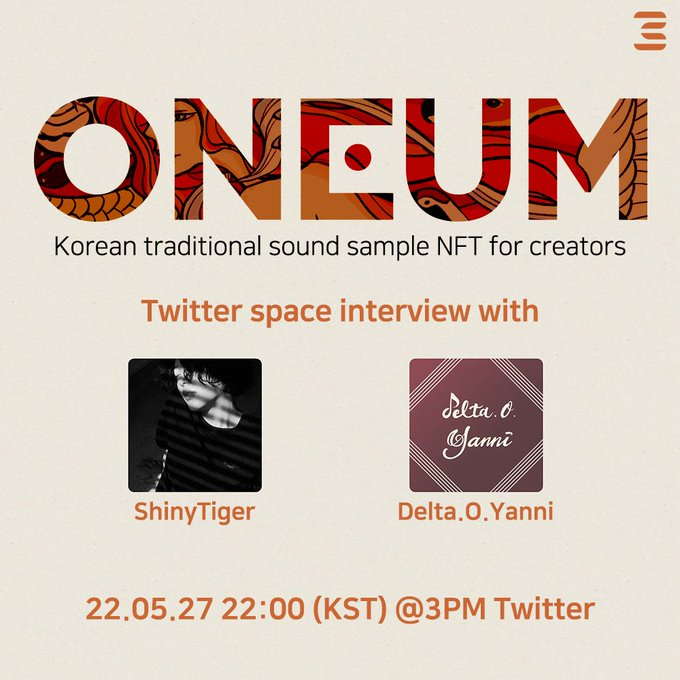 The Oneum project will receive pre-registration by June 6th and pre-minting will be conducted for pre-registered holders. We will work together in this formed community and have a public meeting after receiving feedback, but the timing of public minting has not been decided yet. To register in advance, you can make a solar or wallet.
Three Solana Wallet Comparison Analysis: Phantom vs. Orca vs. Sollet
3PM is looking for a 'Warm Partner Artist', and if you become a partner, you can provide promotional support for the original track produced using Woom samples. In the future, the Oneum project is preparing for the production/release of Oneum Compilation, the holding of a song camp, securing additional samples, and the launch of Web DAW. We had a quick Q&A session with CEO Lim Ji-soon.
---
"When you start selling future value, you put off the intrinsic value until later." / 3PM CEO Lim Ji-soon
Cha Woo-jin: They call it Generation 0, so does it continue to increase after that?

CEO Lim Ji-soon: Yes, this may not be the end, so I started with it open. There are 1,344 samples. If more holders are added and more people actually participate in producing, they might want more sound. And if we could raise more samples with the proceeds from this project then we could say that it's the next generation.

Cha Woo-jin: The project is scheduled to hold a song camp and launch a DAW in the future, so is there a reason why you're thinking about this structure?

CEO Lim Ji-soon: Recently, songs like Lee Il-chi and Suga's "Daechwita" have attracted a lot of attention, so why haven't there been any songs like this before? You can think about it. But I thought the reason why it's hard to make such a song is because there's no infrastructure.

These days, composing is actually more like assembling a sample of a virtual instrument like stacking Lego blocks rather than recording an instrument yourself. The ecosystem of the platform that provides those samples is also very active. But I think more than 70% of the samples provided here are EDM sounds. And then acoustic sound, orchestration... It's like this, but it's hard to find samples of oriental sounds, especially Korean traditional musical instruments.

In particular, since there are many Japanese companies that have produced synthesizers since the 1980s, Gugak instruments are rarely included in the basic musical instrument samples. There are many cases where Chinese, Japanese, Indian, and Korean instruments are mixed under the name Oriental.

If we can't get the sample, there's no way the content will come out. There is no infrastructure because there is no sample. So I came up with this project, and I partnered with a company called Wavetree, which has been developing Korean traditional music instrument VST for a long time, to publish NFT.

Cha Woo-jin: But isn't EDM strong in music NFT?

CEO Lim Ji-soon: I don't think EDM fits better with NFT. Recently, there have been various cases. In the early days, EDM musicians were a little closer to technology, so it went fast, but I don't think the genre and NFT are connected. There are more EDM producers among those who are asking to participate in the Oneum project, but I don't think it's based on the genre.

Cha Woo-jin: I also see music NFT from the perspective of IP business, and how can I explain this project from that perspective?

CEO Lim Ji-soon: The compilation album that will be made into the Oneum project will have something in common that it is not a genre but a sample of Korean traditional music. I'm going to put more genres on purpose, but I'm hoping that the way musicians use samples will be completely different, and that there will be music that I've never imagined. There could be a pacific in the Gregorian castle. I think these attempts to destroy grammar musically will accumulate in our IP. 3PM is a company based on blockchain and NFT, but at the same time, it is a music company. It's a music tech company, and in order to use our IP organically, we have to proceed with web2, so streaming distribution. So our goal is to meet more experimental artists while continuing to increase [full-tone compilation].

Cha Woo-jin: What kind of vision does 3PM have?

CEO Lim Ji-soon: In fact, in the NFT market, it is common to sell future values, and then it keeps delaying the intrinsic value until later. Future value is the price after all, but if you make a promise or prepare for this part, it can lose its essence. This fundamental often collapses as the problem of dividend-type coins fails to manage the fundamentals, that is, the intrinsic value. But I don't think it's appropriate for the content business, and I don't want to do that business.

Cha Woo-jin: So what 3PM thinks about is the value of music, or the power it has, but it's hard to quantify.

CEO Lim Ji-soon: I think there's a kind of inertia in the web3 industry, and I think it's turning everything into a quantitative value. It can be a cash value or a token value, but since the content is quantified only by monetary value, the indicators often do not reflect the essence. The content industry believes that this is actually very dangerous. The trailing indicator is important, but focusing on the leading indicator to make a number can actually be a very dangerous approach... That's what I think.

Cha Woo-jin: In fact, the ecosystem is important for everyone to establish a new industry, so they have to contribute to the ecosystem or focus on revitalizing it... He says it like this. And that's true. But actually, I think it's very rare or difficult to make decisions or set directions based on them. In this regard, 3PM seems to focus on the ecosystem of music NFT, and to plan something like a "on-eum project" for it. I think I use my energy to create the foundation or environment that creators can create. In that sense, I think you're going on a very difficult path, and I think 3PM should do well. I will continue to support you. 🤟