BAUND: music creators platform
Platform for music creators - Baund
TMFM Newsletter introduces a number of issues and new services based on interest in creators and fandom. Today is the social platform Baund for music creators.
---
In the 21st century, the business model of music is constantly being innovated. It can be said that this is the result of the emergence of a new generation, changes in media listening habits, and changes in digital technology. Thanks to this, industry indicators such as recordings, concerts, and IP are growing, but artists? As you know, in the midst of rising numbers, they are not eating well and living well. However, it is not a matter of livelihood for musicians to be threatened. It's sustainability.

Sustainability, so whether you can do what you do today tomorrow, the day after tomorrow, and next year. The lower the profitability of music, the lower the sustainability of music. Is it a problem because streaming is too profitable? That's possible, but it's also ambiguous to blame all the streaming services. In the first place, streaming emerged as an alternative to the music industry, which was devastated by downloads, and it is also thanks to streaming services that the size of the industry continues to grow.

However, the problem is that music (not only music but also almost all content) is becoming more free in the digital world, not just because of streaming, and that the profit structure of music is unstable. And this is a problem to be overcome rather than eliminated. So alternative revenue models' are needed.
Bound: A platform that connects musicians and users with bits
BAUND | My own music made with the beat of artists
Bound is a service that allows users to easily create and share music and videos using bits created by professional bit makers. UI is actually similar to TikTok, a leader in this field, but the biggest difference is that it is functionally optimized for music.

Launched in January, it is a new service that is only three months old, but the platform has high-quality bits of veteran producers such as The Quiett, Changmo, Waithed, and Biang. It provides more than 400 exclusive beats provided by active hip-hop producers. To write this beat, you just log in, play the beat, and then record the video.

On top of that, it provides an in-app multi-track recording studio, and provides technical support such as "SlayTune™," a voice correction technology developed by Bound, video optimization encoding technology, AR mask, and 3D filter effect. It even received patents for multi-track recording driving methods and UIs in the studio.
The user can check the bits of the bound in detail by the tour tab. In addition, you can see the producers who provided the beat and their works at once through the Behind The Beats' tab. Here, you can access categories such as popular bits, new bits, and recommended genres and choose the beat of the style you want. This is the result of classifying the bits exclusively provided by Bound into metadata such as BPM, genre, style, and atmosphere. There is room for AI to add a function to recommend bits in the future. You can also imagine a structure in which these bits are provided not only by artists but also by users and distributing profits by assetizing them.
Today's users are future creators
Why do we offer this function?
Now that social media has become mainstream, social media is increasingly integrated or evolving into a "creator tool." Instagram is becoming a visual content production tool, not image media. YouTube and TikTok are video content production tools. In fact, the role is not divided into functions. From that point of view, Bound is a music production tool, social media, and music platform.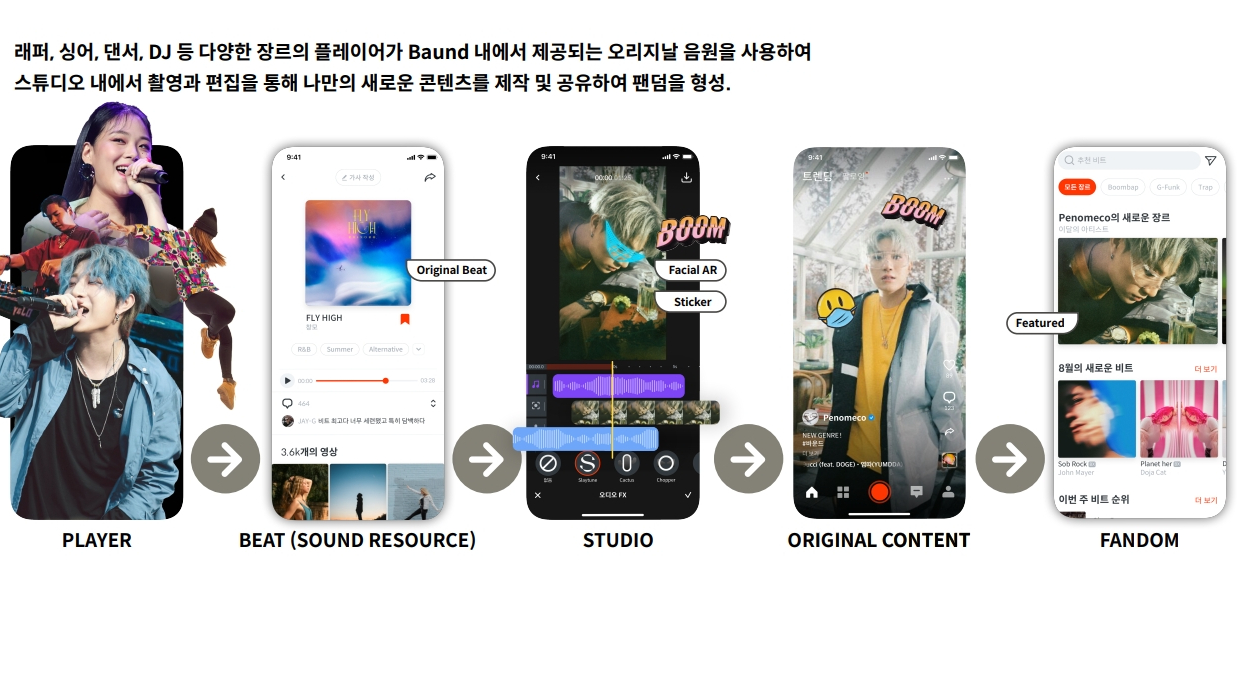 BOUND OPERATION STRUCTURE
At this time, the premise is that the current media user is the creator of the future. Making music will be easier and easier. Some generations can write music as everyday as writing. The boundaries between musicians and the general public will also be blurred. The era of expressing one's thoughts with music without professional education has already arrived. In particular, for the new generation, rap and DJing are being implemented in a way that reassembles musical senses and references. Bound is a platform that focuses on the new music generation that emerges like this.

Bound provides users with exclusive bits and editing tools, and users can grow into music creators through this. The copyright and IP of the resulting product are attributed to the creator (user and bitmaker), and the bound plays a role in expanding the value and profits generated from it.

This is the differentiation and possibility of bound as a platform. As I said, social media is evolving into a creator tool. However, it is difficult for creators to expect direct profits there. Instagram, Twitter, Facebook, and TikTok are responding by creating creator funds, but they are still in a transitional nature. Simply put, the creator economy is a matter of how easily and quickly monetizing its influence (gained by networks like social media).

Bound has the potential to become an alternative platform, not only connecting beatmakers and creators "with music" but also supporting both sides to earn profits. This can also be a fresh stimulus for music creators working on existing platforms.

Meanwhile, BOUND's "POWERED" rookie discovery program gives the impression that BOUND is active in new creators. Users who are selected for the "Power," in which musicians active in the hip-hop scene will host the music composition, will also get a chance to release the song by being featured by the host musician. Now, rappers Khundi Panda and JAEHA have opened PowerD.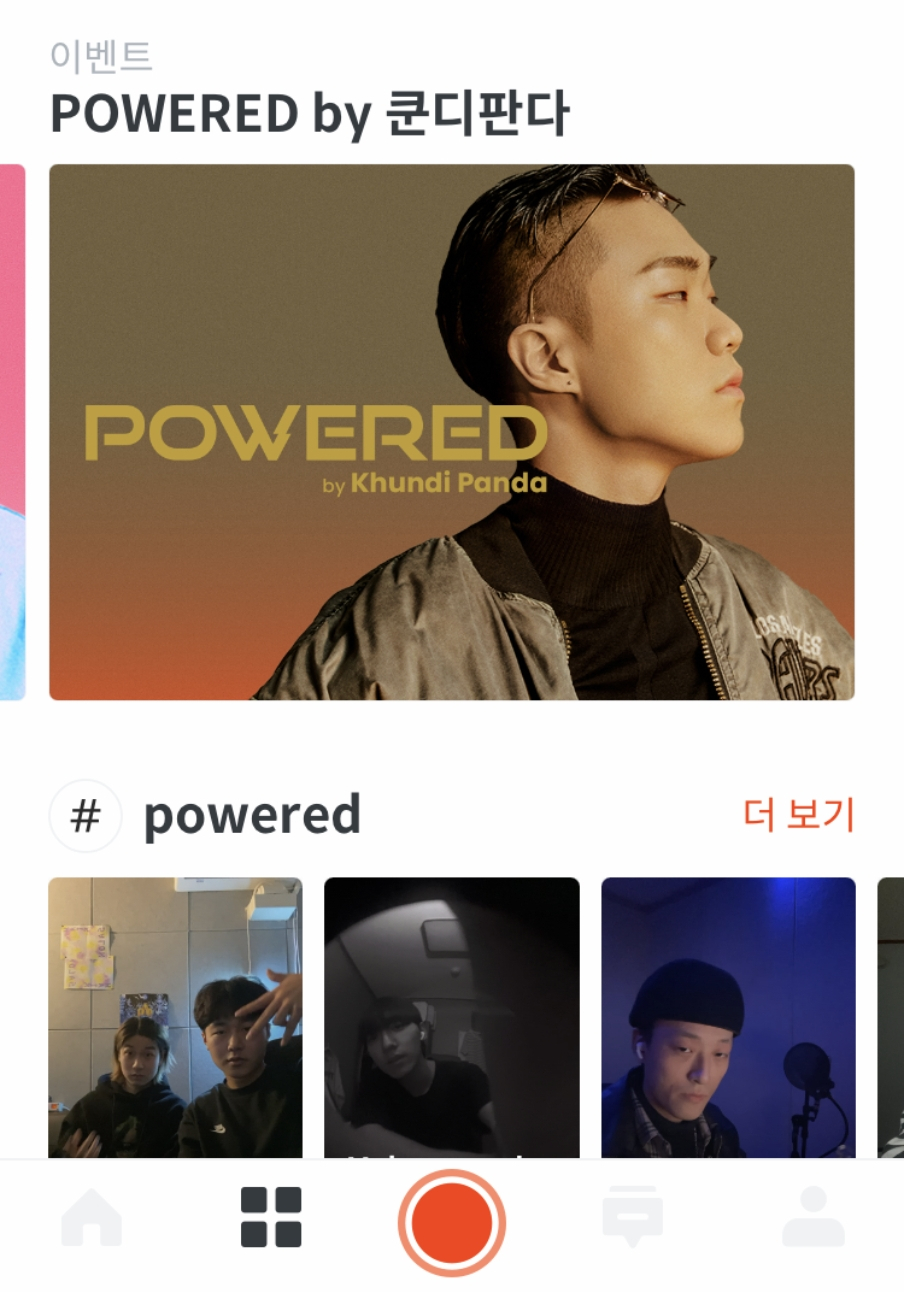 I looked it up and found that the service was only opened for three months. I asked for an interview because I was curious about the background and context of the service, and how the artist of the hip-hop scene was being recruited. CEO Lee Young-wook is the first generation of Korean hip-hop and also served as the CEO of Highlight Records of Highlight Records.
---
"Bound will contribute to the big ecosystem by solving small problems in the industry." (feat.CEO Lee Young-wook)
Lee Young-wook, CEO of ID ID ID, which serves BOUND, is a first-generation Korean hip-hop artist, who worked as a camo star and a hysterical child. Born in 1979, he worked in the IT industry in 2000, producing sound for mobile applications and car navigation, and over the years he directed music for rhythm games R2Beat and online basketball games Freestyle. Since then, he has signed as an exclusive artist for Highlight Records established by Paloalto and has also become a representative director. In other words, he has experienced not only music but also IT services and business operations.

It is said that CEO Lee Young-wook came up with "Bound" around 2014 while watching "Show Me The Money 3."

"There are so many friends who want to do music and hip-hop. Is there a better way for them to build their careers?" What if competition and auditions are held in the gamification structure? I just thought about it in my head."

However, this problem was not only an aspiring musician but also a risk to the traditional label business. It spends a lot of time, manpower, and money discovering potential musicians and growing them into stars, but it is a structure that has a low chance of success.

"So I think it'd be nice to make this kind of problem bigger and offer it online. I thought it was very simple and easy. I didn't know what was going to happen after that."

Five years later, he established a corporation (=ID ID), and three years later, he was able to launch a bound app. It took longer than I thought and there were many ups and downs, but I think it is rather the right timing to release it in 2022. This is because the creator-centered ecosystem is finally being activated.

The emergence of bound needs to be understood as an axis of the creator ecosystem. Now is not a crisis in the music industry, but a crisis in the music revenue model, and it is digital formation that creates this crisis. However, digital plays a role in returning the attributes we knew to the essence.

The disappearance of the physical properties of a record is also the disappearance of a product called a record. Music is still consumed, even more consumed, and distributed in a more direct and easy-to-listen manner. In an era where there is more music and accessibility is higher than ever, the value of music can be divided into internal and external.

First, the internal value of music lies in the music itself. Precisely, the core elements that make up music: bits and sounds, and the stems that make up it are the inner assets of music. Meanwhile, external values arise from communities centered on music/musicians. And these two are connected as one. Music is the biggest factor that brings life to the music community. To do so, users have to play with music on a daily basis.

Bound solves this problem. It exclusively provides the beat of professional musicians, and users easily recreate the music using the beat, meeting new creators and new fans.

"I think the name creator will change even more widely in the future. We are divided into 'artist', 'viewer', and 'player' who provide beat. But I think this boundary is really going to be blurred. I think the viewer can be a player and an artist can be a viewer. In that kind of structure, bound will be a platform for playing music lightly."

The current problem in the music industry is the monetization of music. To be precise, diversification of revenue is a problem. But music is already close to 'free'. People listen to music on YouTube. Musicians and companies also post 'Full Length Album' on YouTube. It happened when the music (music) was separated from the album. Music from physical albums is difficult to commercialize in itself. How and how much will you price the sound of flowing (=streaming)?

It is the fandom, in fact the community, that appears to solve this problem. If the musician, or people who like the music, gather together, continuous profitability may be possible. But here comes the second problem. The community is maintained by the active activities of its members. But how? Should the so-called 'tteok-bap' be provided from time to time? Should we change concepts frequently and build a huge worldview like a K-pop group? First of all, is that something anyone can do?

"Creators make up a micro-community, or a smaller nano-community, at a time when platforms are growing so much, even if they're not necessarily related to music. I think bound can also provide such a small community for players. It's a picture that helps players create fans based on music and create sustainable structures."

Everyone thinks fandom, community is necessary. I also know that other profit models of music will be possible based on the community. But not everyone can make it. Above all, musicians are those who are optimized for music and those who are the best at music. It is virtually impossible to be a musician who makes music well, speaks well, does business well, makes concepts, and manages fans well. Therefore, musicians have no choice but to meet their fans through music.

"Beat is just one of the many services we've prepared. After that, we plan to provide a system where players collaborate with each other, create a small group, crew, community, or sponsor and promote each other. There will be e-commerce, and features such as live streaming will be opened one by one as the bound grows."

So is the future of Bound only hopeful? How can the cute and fun service of this small startup solve the huge problem of the music industry?

"We're also preparing a bit publishing platform. It's a structure where beat makers sign contracts and provide beats through there. After that, I am aiming for a company that also serves as a management system and distribution platform. In fact, boundaries cannot solve the problems of the music ecosystem. But I think solving the small problems that occur in each unit little by little can contribute to a big ecosystem change. Of course, it's a three-month-old service, and it's just the beginning, but I think there's something we can do."

Bound's direction of "contributing to the big ecosystem by solving small problems" sounds like an answer to the question of "how to make sustainability with music." What kind of changes will they make in the future?

Not only the music business but also the business based on creativity has a very sensitive and contradictory character compared to other areas. It's because the mind is the base. So experience and affection are more important than anything else in this scene.

Industry workers, consumers, and users all plan content based on affection, create products, and spend time and money. Love and business. Although the two sometimes clash and conflict, even he shows that the business of the industry is based on love. The success or failure of services such as bound will ultimately depend on this.

Bound is currently only available for download on the iPhone. The Android version is scheduled to launch within this year.